News
Latest news on the CLEVER Cities project
Thamesmead is set to finally live up to its aspirational beginnings
12 June 2019
###full_location###
The Thamesmead Estate, in south east London, was intended to be a model city, with utopian architecture and a vast network of green spaces and waterways that took advantage of its location on the banks of the river Thames. Originally, the town was settled by families escaping from cramped and unfit housing in central London, and is now home to 45,000 residents.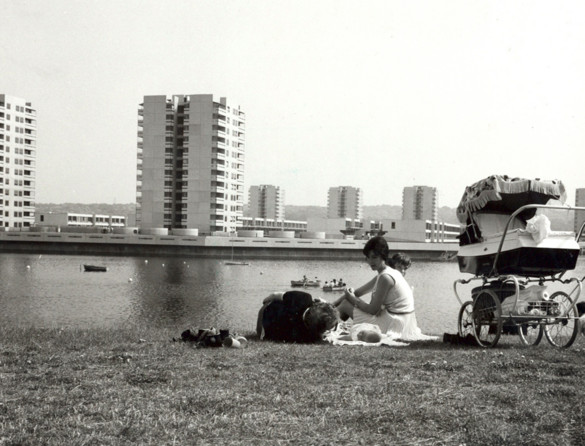 Thamesmead's aspirational beginnings in the 1960s
The 1960s estate, possibly best known for its brutalist concrete towers as featured in the famous film 'A Clockwork Orange', never quite lived up to its full potential. The masterplan that would have seen good transport links to the centre of London and much-needed amenities never materialised, and the modern architecture and urban design did not work well for the residents and resulted in many unintended consequences.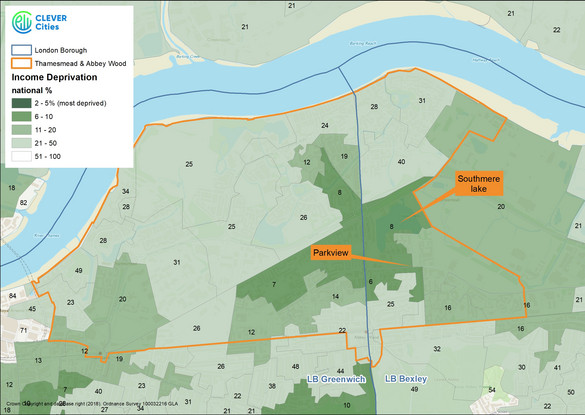 Income deprivation map

The layout of the estate is confusing and often isolating. Elevated walkways are poorly lit and considered unsafe places to walk. Underpasses and garages, built for the smaller cars of the 1960s, have become redundant and have begun to be used as meeting points for anti-social behaviour. The design of the lakes, canals, and green spaces, in many ways early forms of sustainable urban drainage, were given little thought and as a result are underused with poor access routes, visibility, and orientation. The many green and blue spaces today are inactive and provide limited amenity value to many residents. However, that is all about to change.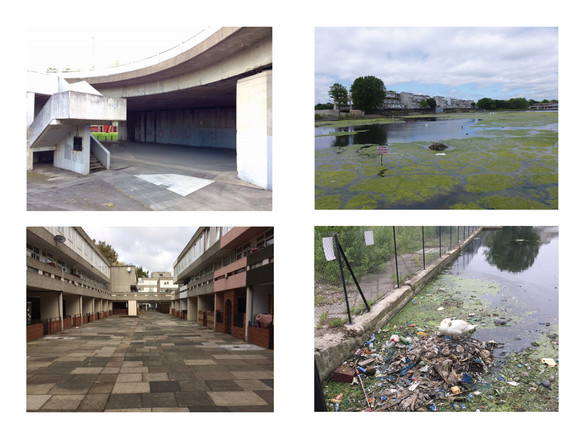 Public amenities not currently in line with residents' needs

In 2017, Thamesmead was designated an Opportunity Area for London. This means that it is recognised as one of 38 areas that offer brownfield land with significant capacity for development, and existing or improved public transport access.. The area is soon going to benefit from access to the Elizabeth Line at Abbey Wood station. From December 2020, people who live or work in Thamesmead will be able to reach Canary Wharf in 11 minutes, Bond Street in 25 minutes, and Heathrow airport in 52 minutes. This will be a major catalyst for change in the area.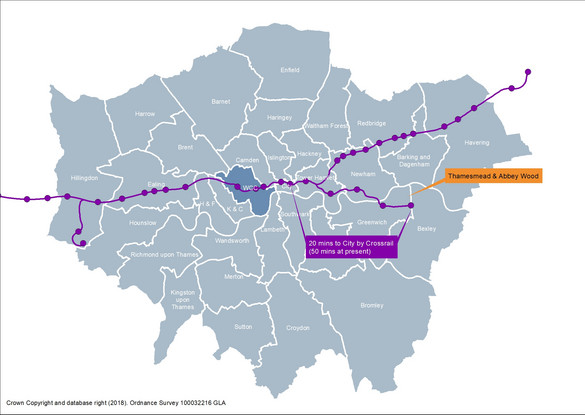 Transport links

Peabody, the housing association that now owns and manages much of Thamesmead, wants to realise the area's potential and make it into a great place that lives up to the original aspirations. By 2050, Thamesmead will be a place that over 100,000 people call home. There will be space for everyone, with homes of all shapes and sizes. New homes will be intelligently designed and older homes will be well maintained. Neighbourhoods are to be expertly managed, and feel safe and secure, and to provide all necessary amenities. The area's green spaces, waterways and lakes will be at the heart of everyday life, providing space to play and space to breathe in a healthy environment. Thamesmead's landscape will give a sense of escape from the hustle and bustle of the city centre in a location 20 minutes from London's West End.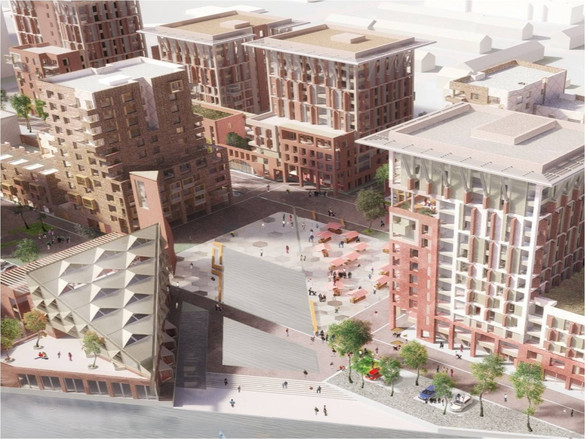 Artist's impression of the future district
CLEVER Cities is complementing the planned regeneration work by focusing on two neighborhoods in Thamesmead: Parkview and Southmere. The project team is undertaking activities through a number of City Action Labs (CAL), that will seek to address issues of connectivity, social interaction and poor health whilst enhancing the local environment. The project will create NBS that local people can understand, interact with and contribute to its management. The interventions will focus on creating NBS 'on the doorstep' rather than distant from where people live and work. The NBS will be interactive both in the sense of being part of a resident's everyday experience and through the use of embedded technology to monitor both the effectiveness of the NBS in promoting behaviour change and use of the NBS by residents. The project will also test new ways of using participative techniques and digital applications to crowd-source information, ideas and views, and new ways of accounting for and revealing the economic value of NBS interventions.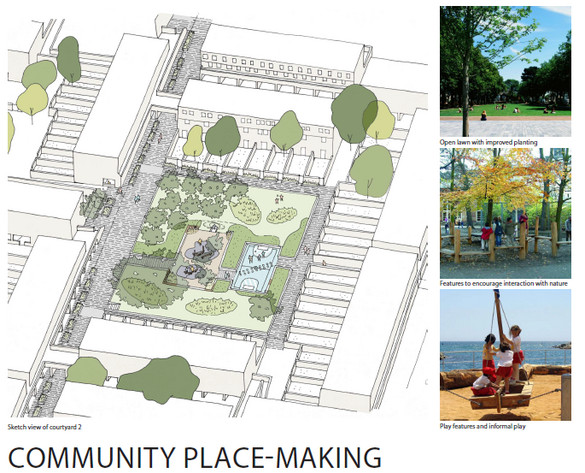 Phil Askew, Director of Landscape for Peabody said 'working with CLEVER Cities is a fantastic opportunity to add value to our work in Thamesmead. We are excited by the opportunity to co-design NBS with local communities, experimenting with novel ways of greening the grey, and really understanding what impact these NBS interventions have on our residents' wellbeing.'
The CLEVER Cities action labs aims to bring positive, nature-based interventions to the Thamesmead area together with the important goal of documenting and measuring the impact of these improvements on the lives of the people that live and work there. This approach aims to raise the capacity of those involved in designing and building our cities and help them to consistently integrate nature-based solutions, and the social well-being benefits they provide, into their new developments and projects. Policy makers, decision-takers, planner and other stakeholders will be able to observe and benefit from the lessons learned in the Thamesmead development. The CALs will serve as critically important test-beds for London and beyond; as the CLEVER Cities programme will reach out to many cities and countries around the world.
Thamesmead (Greater London Authority) by "Greater London Authority", licensed under Copyright GLA