News
Latest news on the CLEVER Cities project
#GetSetSow campaign turns Thamesmead residents into gardeners during lockdown
9 October 2020
###full_location###
With six major lakes, three nature reserves and over 350 acres of open space, Thamesmead in south-east London is marked by a unique natural landscape which locals regularly enjoy. But as the COVID-19 pandemic hit the UK earlier this year and Thamesmead residents found themselves confined to their homes, keeping in touch with nature became a real challenge. To solve the problem, the CLEVER Cities team in London came up with a simple but smart solution: to help people bring nature indoors and become more self-sufficient by growing food at home.
In June, CLEVER Cities partner Groundwork London led a campaign, supported by Peabody and Greater London Authority, to give away 350 free food growing kits to Thamesmead residents, including seeds for lettuce, tomatoes, broad beans, basil and an instruction booklet as part of the initiative #GetSetSow. With the kits, locals were able to enjoy a rewarding activity during lockdown and grow edibles even in the smallest of places - be it a windowsill, balcony or a small garden.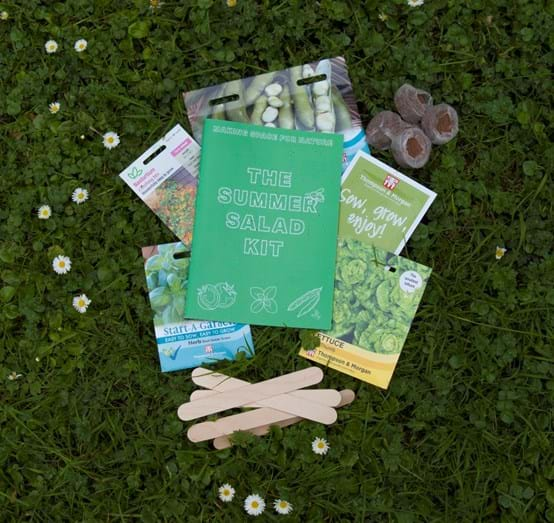 The Summer Salad kits proved a great hit with residents like Kelly Jagger and Jamie Zubairi.
Kelly said: "I saw the kits advertised and wanted to try it. I thought, 'Right, I'm going to grow tomatoes', while really thinking, 'These aren't going to grow!' Literally within three days we had sprouts and it just got bigger and bigger and bigger. I couldn't believe it."
Jamie added: "I think growing has kept me a little bit sane during lockdown, it's been too easy to get caught up in keeping up with what's happening all the time. So, having plants doing their slow thing has been a reminder to sit back and let things happen at their own pace."
The activity aims to keep residents engaged in the CLEVER Cities programme, publicly known in London as Making Space for Nature, and encourage participation in upcoming workshops to co-design "nature-based solutions on the doorstep", planned to start after coronavirus restrictions are eased.
Read the interview below with Groundwork London to learn more about the Making Space for Nature Summer Salad Kit and what they have in store to increase local engagement and the use of green spaces in Thamesmead.
Interview with Asha Tomlin-Kent, Community Project Officer, and Jessica Rings, Communications and PR Officer, at Groundwork London
What is the idea behind the #GetSetSow campaign?
Jessica Rings: We wanted to make sure we were opening a range of communication channels to keep in touch with residents during lockdown and ensure they remain connected to nature. We chose food because it is such a good way to connect with the natural world. From plant to plate, food is intrinsic to survival. Why not show people how rewarding and easy it can be to grow your own at home?
Who in Thamesmead was eligible to receive a Salad Kit?
Asha Tomlin-Kent: Of the 350 salad kits, 70 were sent to local primary schools. Some went to Peabody's socio-economic team, which works with some of the most vulnerable residents in the area and to local food banks to support their services.
Some kits were distributed to local stakeholder groups that we work with, including a group of elderly residents and a group called "The Women's Lounge", made up of local women from diverse backgrounds. One of their key objectives is to build economic empowerment skills that they can use to start small businesses. We worked with them to show how they could do this using the natural environment around them, delivering jam-making and candle-making using natural ingredients foraged from around Thamesmead.
The rest of the kits went to local residents all over Thamesmead who registered online.
What kind of reaction did you get from residents?
Asha: We had a great response on social media, especially on our new Facebook community group, "Thamesmead Green Guardians", and on Twitter with the hashtag #GetSetSow. Residents sent videos and photographs of themselves unboxing their kits and of their children sowing the seeds and crafting their customisable, illustrated plant labels. As we hoped, we also had residents using the platform to share their progress and exchange growing tips, such as how to repot plants.
Jessica: The Summer Salad kit has kept people occupied for quite a few weeks now. As well as the food growing activity itself, the kit contains creative activities like colouring, label decorating and nature spotting. It can be quite a slow journey from sowing seeds to harvesting. Now that it's time to start potting seedlings on, we expect that even more residents will be posting their progress pictures and questions to the group.
How do you make sure residents are not only growing food in their private spaces, but also engaging and exchanging information with the rest of the local community?
Jessica: There are people on the Green Guardians Facebook group who are particularly passionate – you already see the most engaged residents emerging; sharing their food growing journey and asking questions. We hope that the topics will organically broaden and it will become a place where people talk about nature around Thamesmead more generally, share interesting articles and form community groups based around nature which gain a physical presence once conditions allow.
To make sure residents feel supported during physical distancing, we have also set up the "Greenline", a phone line which people can call to speak to the Thamesmead Gardener-in-Residence and ask questions. By encouraging engagement with these shared virtual channels, we seek to increase community resilience and ensure the legacy of the project.
We hope that the passionate and most engaged residents will be inspired to take the lead on greening interventions in the future. This sense of ownership of the natural spaces around Thamesmead is crucial to achieving our project goals.
Asha: We hope the kits will excite people about nature and that they will come along to the Nature Forum; a group of local nature enthusiasts that we facilitate, where residents can have a say in the shaping of their local environment and green spaces. The thinking behind the campaign was to show people what they can do with nature in their own homes during lockdown to encourage engagement with later aspects of the project, such as community greening grants that will support residents to identify underused spaces, whether it be a courtyard or a small area of concrete, and to implement their own greening projects.
Some groups have already expressed that there aren't any community growing spaces near to where they live and have identified spaces where they would like to build more easily accessible allotments or raised beds.
What are you planning next?
Asha: We are now in the process of taking registrations for a second food growing kit; the "Spice & Season box". It consists of compost discs, plant labels, seeds and an accompanying booklet. It has seeds for parsley, coriander, fennel, chilli and two pages showing people how to they can plant lemon trees and garlic from kitchen scraps they already have at home. There are also some digital resources about how to dry out herbs and make flavoured oils. We have 400 of these available to residents all over Thamesmead.
We are also working on new 'co-design kits' for residents in the South of Thamesmead, the area where our CLEVER Action Labs are based. These kits have much more of a direct focus on co-design and making the connection between personal space and public space. We have shown people what they can do in their own space and now we are trying to build capacity in urban design in the wider community and get residents thinking about the impact they can have on the public realm around their neighbourhood. We hope that this will lead to more meaningful engagement in the co-design of the improvements around South Thamesmead through the CLEVER Action Labs and will encourage people to apply for the greening grants to lead their own interventions in the public realm as well.
Can you give us a preview of how the co-design kits will look like?
Asha: They are still a work in progress but will be quite interactive, exploring the different ways that residents can impact the Thamesmead public realm. Themes might include growing, playing, creating and collaborating. For example, encouraging people to think about how what they grow on their balconies - for instance, climbing plants – might be visible from the street level and the impact that greenery along the street might have on their neighbours. Other examples will have to do with more creative tasks, things you can create in your window, collaborating with neighbours to design something along your street, etc.
----
To download the accompanying booklet of the Making Space for Nature Summer Salad Kit and read tips on how to grow edibles indoors, click here.
Stay tuned for more information on the upcoming kits!
To sign up for the Making Space for Nature newsletter, click here.
Making Space for Nature Summer Salad Kit (Twitter) by "Jack Gower"