News
Latest news on the CLEVER Cities project
Neighbourhood festival celebrates opening of Hamburg's CLEVER Parcours
9 November 2021
###full_location###
On 22 October, CLEVER City Hamburg held a neighbourhood festival at the Vogelkamp park to celebrate the opening of the CLEVER Parcours - a wayfinding system that connects numerous nature-based interventions in Hamburg's Neugraben-Fischbek district.
The head of Harburg's building department, Hans Christian Lied, the CLEVER Cities project coordinator, Martin Krekeler, from the Hamburg Senate Chancellery, alongside Thomas Krieger, a site sponsor and representative from the Harburg-Wilhelmsburg Beekeepers Association, inaugurated the wayfinding system during a festive event.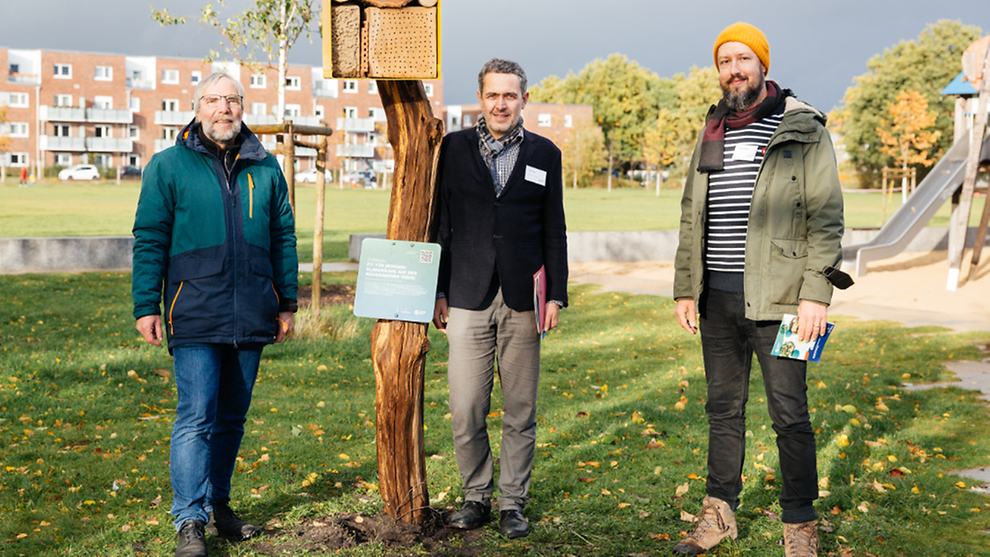 Photo: Enver Hirsch
Despite the rainy weather, about 120 participants attended the festival. Both children and grown-ups had the opportunity to learn about the CLEVER Cities activities over coffee and cake and to take part in various outdoor activities such as intuitive archery, throwing and catching, as well as handcrafting seed bags.
The event was accompanied by two guided tours, during which the experts of the respective interventions discussed the importance of Nature-based Solutions and their significance in the local context of different locations. The first tour also included a planting activity, where participants co-planted a particular section of a noise barrier with wild vine, climbing hydrangea and spindle.
Photo: Enver Hirsch
Designed to indicate the way between different Nature-based interventions, the CLEVER Cities Parcours consists of miniature yellow houses holding different contents depending on their location and the interventions they correspond to.
Among others, the contents of the houses include a wild bee hotel, a bat house, a peephole, a bird feeding station, a history board, and a cross-section illustration of a smart water retention green roof and its pumping station.
In addition, there is an information board at each location with the name and a brief description of the respective project. With the help of QR codes placed on information boards, additional details on the individual interventions can be retrieved.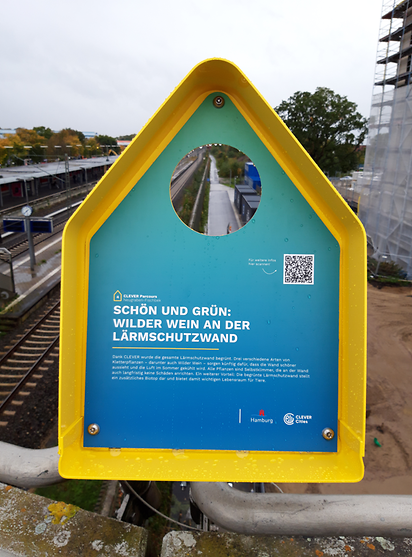 Photo: BA Harburg
The CLEVER Parcours, which is best discovered by foot or by bike, stretches from the centre of Neugraben along the Vogelkamp neighbourhood to the Fischbek train station. Currently, 15 locations are marked with the guidance system in the form of a miniature yellow house. With the implementation of the further interventions, the wayfinding system elements might be installed in further locations next spring.
See an interactive graphic representation of the wayfinding system on Hamburg's Geoportal.